Boca West Boca Raton
Once every generation comes along a real estate riddle that's beyond puzzling. The wheels and cogs driving the scenario are a rule unto themselves, befuddling the mind and defying logic. South Florida is no exception. It contains a country club (CC) occurrence that reflects so many conflicting metrics and community vibes that even the most professional agent finds it challenging to make sense of it. However, we've unraveled the complex situation. Want to hear more? Read on.
Homes For sale in Boca West emerge from luxury single family homes (SF), condos, patio homes, villas, garden apartments, and townhomes for sale in 55 unique SF and multifamily (MF) villages (i.e, 1,000 to over 8,000 square feet under air). The latter spreads across 1,400 magnificent acres interwoven with 72 rolling fairways, in-land lagoons, peninsulas, and flourishing tropical foliage. Although the name signifies a westerly city position, it nestles on the northwest corner of Jog and Glades, with a 24/7/365 high-tech guarded entry on each road (and consistent campus patrols), undoubtedly the heart of central Boca Raton.
Pundits rate Boca West's four eighteen-hole championship golf courses (designed by Arnold Palmer in conjunction with top links architects Pete Dye and Jim Fazio) as among the best in the state. In addition, RE agents concur that backyard and living room vistas are second to none, providing mind-boggling aqua-centric and green space outlooks from almost every vantage point.
Notify me when new listings become available in Boca West
Boca West Homes For sale
$4.9 Million
Oakbrook
19674 Oakbrook Court
Boca Raton
,
FL
33434
Under Contract
$3,350,000
$3,850,000
MLS#R10853633
20155 Boca West Drive A204
Boca Raton
,
FL
33434
Under Contract
$2,799,000
Oakbrook
19719 Oakbrook Circle
Boca Raton
,
FL
33434
Under Contract
$2,360,000
MLS#R10847330
20155 Boca West Drive A203
Boca Raton
,
FL
33434
Under Contract
$2,299,000
$2,499,000
Akoya
20155 Boca West Drive C404
Boca Raton
,
FL
33434
Under Contract
$2,275,000
$2,399,000
Mahogany Bend
7437 Mahogany Bend Place
Boca Raton
,
FL
33434
Under Contract
$1,800,000
Wedgewood
7488 Rexford Road
Boca Raton
,
FL
33434
Under Contract
$1.5 Million
Cedar Glen
19293 Cedar Glen Drive
Boca Raton
,
FL
33434
$1,425,000
Fairway Point
20320 Fairway Oaks Drive 374
Boca Raton
,
FL
33434

Map of Boca West Homes in Boca Raton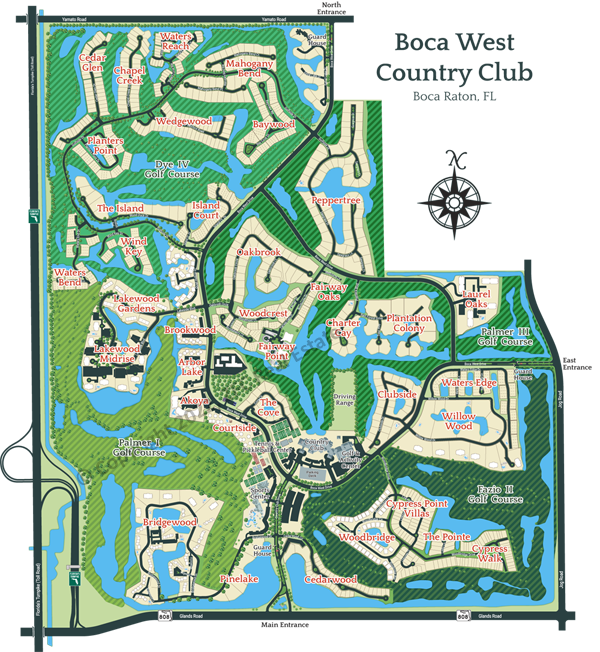 Boca West Siteplan
(PDF)
The newly reconstructed 400,000-square-foot activity space (completing a $45 million renovation program in 2022) offers residents (over 3,500 families) the following:
Stunning full spa facilities that embrace whirlpools, waterfalls, treatment rooms, and trained massage therapists in every vertical of the culture.
At least six unique on-site restaurants competing favorably with rated same-category eateries in the city that include the following:

Breathtaking views of the pool and aquatic center.
Golf club and tennis center convenience.
A market square grab-and-go theme.
Alfresco dining in various locations.
High-end steakhouse fare.
A casual hamburger-style service.
A specialist cocktail mixology focus

An iconic porte-cochere entry to a fitness and wellness center embracing diverse activities from spin classes to pilates (aside from recently re-quipped high-tech cardio and weight training apparatus).
An aquatics, leisure, and swimming center delivering:

Cancun resort-style free-flowing family infinity-edge pool.
Expansive sundecks.
A spread of private cabanas, loungers, and dedicated shaded areas.
A spa pool.
A lap training pool.
A water aerobics pool.
A kiddies' splash area.
An adult private swim/relaxation section.
Fantastic poolside service with easy access to eating and drinking services.

A Racquet center revolving around 29 Har-Tru tennis courts, 14 pickleball courts, a pro shop, coaching, and league arrangements.
The show-stopper is that year-after-year Boca West CC has won the Club Leaders Forum's vote as one of the world's fifteen best private clubs, plus a consistent Platinum Clubs of America 5-star rating awarded non-stop since 1997. Indeed, the accolades from credible hospitality & lifestyle sources go on and on, confirming that Boca West real estate and service are in a class of their own.
So what does living in Boca West, a resident mandatory member club, cost a family?
A $90,000 non-refundable initiation fee.
For a member participating in all sports activities - $2,131 monthly annual dues (aside from HOA fees - see below).
Monthly membership, excluding golf but everything else on the campus - $1,415.
As CC membership expenses go (versus Boca Grove Plantation, Addison Reserve, and Delaire), Boca West is competitive, although higher than Gleneagles and Boynton Bch alternative Hunters Run and Aberdeen. However, they're substantially lower than boutique membership clubs in Jupiter. We'll return to these metrics lower down when we solve the puzzle mentioned in our introduction.
Defining the puzzle begins here
From a residential real estate perspective, prospective buyers should take note of a selection of builders renovating multifamily units from corner to corner with the latest marble, stone, granite, onyx, and wood building materials to deliver:
Contemporary chef's kitchens (with premium stainless steel fitted appliances)
Spa bathrooms with seamless glass showers & floating vanities.
Sleek custom cabinetry.
Bedrooms to die for.
Porcelain and wide-plank flooring.
Recessed lighting, and more.
High-impact windows and sliders.
So, what's the price for these 2022 remodeled editions? Answer - around $300,000 before paying the initiation fee (still holding the number under $400,000). For example, in the first few months of 2023, the cost per square foot (UA) of MLS sold units between 1,050 and 1,350 square feet (UA) were as follows:
Fully Renovated as described - $244.
Semi-remodeled - $159.
Ready for renovation - $90.
Conversely (the head scratcher if ever there was one), alongside the above are valuations everyone expects in super-luxury CC communities:
SF homes (pre-1990 vintage but extensively reconstructed) changed hands at around $500 per square foot UA (i.e, $1.5 million for 3,000 square feet UA)
A sky home in the super-luxury 2019 new construction tower Akoya on the West Boca campus closed at $3.8 million - $984 per square foot (UA).
Numerous SF homes with some of the abovementioned upgrades sold between $350 and $450 a square foot (UA).
The per square foot (UA) price gap is $896 - nearly ten times the lowest 2023 metric. That's like nothing we've seen before or will likely see again in a CC of this extraordinary caliber. Indeed, the reason the MF deals, as demonstrated, are so cheap circles back to a West Palm TV report of March 2019 reflecting that 58 early vintage units sold at the time for between $1 and $5,000 (NOTE - not per square foot - absolute dollar closed deals).
ZFC Solves The Puzzle
So, we see it as follows:
Condo owners in 2018 and 2019, no longer wanting a CC lifestyle, were on the hook (until they sold) for membership of $2,100 (maximum) + approximately $900 monthly HOA fees, a total of $3,000 per month for a lifestyle either through old-age or infirmity they could no longer afford.
So, unfortunately, they resorted to measures as we've described. Condominium owners looking for release from annual commitments were practically donating units to willing buyers ready to fork out the $70,000 non-refundable initiation fee (in 2018/19 - since raised).
Thus, it set the stage for the extraordinary values streaming through in 2023 from bargain-basement buyers offloading and taking profits. For example, realized prices of $300,000 after paying a $5,000 purchase price + $80,000 renovation cost + $70,000 CC initiation fee is an exceptional net result for sellers.
Please note that monthly HOA fees are separate from CC membership commitments ranging from $1,650 (for a SF house) to an average of 75 cents per square foot of MF unit ownership. Akoya is the exception at $1.12. Finally, prospective buyers for these spectacular buying opportunities - still eye-popping although no longer at 2019 levels - should consider the same cost implications described above.
So, call us today if you want a CC mega-luxury lifestyle for under $400,000 (including the initiation fee) that SF and Akoya members are paying up to $4 million for. Our ears are close to the ground, and you want to beat other alert buyers to the punch. Notably, 123 homes are available for prospective buyers to view. These opportunities won't last forever.
As mentioned above, this CC is central to every big-city convenience Boca Raton homes can offer, a bike ride from Town Center regional mall's boutique outlets and national chain stores for high-end shopping, and short drives to Intracoastal (with boat docking facilities), expansive beaches, Boca Raton Downtown's 100 restaurants, coffee shops & bars, Murakami, and Wakodahatchee Nature Preserve. Moreover, top-rated public schools (see below) and private academies (St. Andrews, Pinecrest, and American Academy) are on residents' doorstep, as are the I95 and Florida's Turnpike - providing half an hour connections by Uber to international airports in West Palm and Fort Lauderdale.
Beating Boca West's valuations in the townhome/condo category is virtually impossible. However, neighboring mandatory membership CCs offering SF options reflect compelling valuations. We recommend Polo Club, Woodfield CC, Addison Reserve (in Delray), Broken Sound, Mizner CC, Delaire, and Gleneagles. We can show you many others in Boynton (Aberdeen, Hunters Run, and Quail Ridge) and The Loxahatchee Club in Jupiter.
Notably, non-mandatory CC options abound, the best being in West Palm and Jupiter, where you can buy a SF residence on campus and join the CC under separate arrangements, paying the initiation and annual dues described. The latter requires a focused analysis, which we can provide for your detailed overview.
Our favorites in the non-mandatory arena are:
You will notice from this write-up that ZFC doesn't gloss over community ins and outs. We cover every last detail to provide a white glove realtor service you won't get anywhere else in the state. We are equally adept at evaluating estate home communities, active adult neighborhoods, boating suburbs featuring new mansions with 100' yacht slips in the backyard, and condo towers on the ocean and downtown districts. Our team also covers multi-acre ranches and modern resort enclaves with all the CC bells and whistles (minus initiation fees, and membership dues). So contact us today for your next dream home in Boca at the right price and within budget every time.
Boca West is a single family residence community located in Boca Raton Fl with a range of options priced between $799,000 and $4,900,000. There are currently a total of 123 Homes for sale, the smallest home currently on available is a three bedroom two bathroom residence that is 2,741 square feet (2,112SF Under Air) and the largest of the homes currently available is a five beds and six baths, 8,088 square foot (7,176SF Under Air) residence. In addition there are numerous other communities in Boca Raton to choose from, or you may browse all Boca Raton Real Estate. Homes in Boca West are selling quickly, set up a new listing alert and we will notify you immediately when a new listing hits the market. Of course you can always contact your ZFC Real Estate agent who would be happy to assist you further with your search for a Home in Boca West in Boca Raton.
Boca West School Zones
Where you live in Boca Raton determines which public schools your children may attend, and this in turn effects real estate values. Homes in Boca West are zoned for the following Palm Beach County school districts:
Frequently Asked Questions
How many acres is Boca West Country Club?
Boca West is one of the largest golf communities in Boca Raton, with almost 3,500 residences on 1,400 acres spanning from Jog Rd to the Florida Turnpike and from Glades Rd to Yamato Rd.
How many restaurants does Boca West Country Club have?
There are nine different dining venues, ranging from "The place for steak" Prime Cut to casual poolside Splash. Boca West has received numerous awards and 5-star ratings for its excellence in both golf and dining.
Get our Exclusive eBook
Palm Beach County Edition